The supplementary needs of a herd for maximum financial return and peace of mind depends on many factors including, stage of lactation, level of production and quality and quantity of the forage component. A key determinant for profitable supplementation is identifying the limiting factor at any particular time.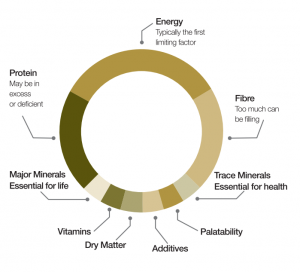 Energy, protein and fibre are invariably the primary determinants of production for dairy cows. Accordingly, the NRM Dairy Range has been developed to provide progressive dairy farmers a choice of energy and protein overlaid with a drop in fibre levels as energy levels rise.
A higher inclusion of by-products which deliver economies could be a good choice when filling a feed deficit within a budget or wishing to feed at higher levels whereas higher starch levels could be more appropriate for cows which are more fully fed when striving for production and milk quality at key times. Cows fed high-quality pasture diets may already be over-supplied with protein and may be best supplemented with low protein compound feed which helps to lower the total dietary protein content. Where pasture protein levels are falling, or where lower protein conserved forages, e.g. maize silage are being fed, a higher protein compound feed may be beneficial.
Supplying something which is already in excess, even if is cheap, could turn out to be unprofitable, whilst something which is limiting, even if it is expensive, can be rewarding. Contact your local NRM Nutrition Specialist to help you selecting the most appropriate option if the best solution is not immediately apparent. Compound feed provides a convenient, efficient route to deliver minerals in a controlled way. The NRM Compound Dairy Feed Range has been enriched with major minerals, trace elements and sometimes vitamins as indicated in the tables (valid spring 2020).