Calf rearing sets the foundation for the lifetime productivity of your animal and doing it well will give you the best chance to have a profitable animal.
Whether rearing calves for heifer replacements or beef animals, goals are similar:
To produce quality replacement heifers that become high producing cows and will last over time in the herd.
To grow beef animals to target weights faster and in better condition, so they achieve slaughter dates earlier, or on time, at better weights.
To do both in a way that is cost effective.
NRM offers the only complete package to support your calf rearing programme–high quality calf milk replacers and calf meals, plus Virkon®S for premium disease protection, backed up by a technical team of calf rearing experts to provide advice and support throughout the season, so you can get the best out of your calves.
Containing quality ingredients selected for optimum digestibility and palatability, NRM calf meals are essential to ensuring your calves get the best start to life. NRM calf meals contain the unique NRM flavouring to ensure easy transition between products as the calves grow. NRM calf feeds are fortified with vitamins and minerals and provide a balanced diet to promote health and growth at each stage of calf development.
Combine this unique family of products with Virkon®S and you have the premium calf rearing package.
Grab yourself a copy of the NRM Calf Rearing Guide, which covers everything you need to know about calf rearing – including colostrum management, hygiene, rumen development, calf husbandry, tips on how to encourage early hard feed intake and everything in between.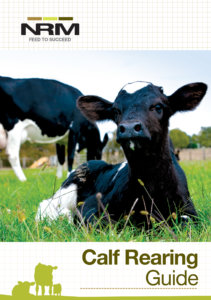 Grab yourself a copy of the NRM Calf Rearing Guide Here.